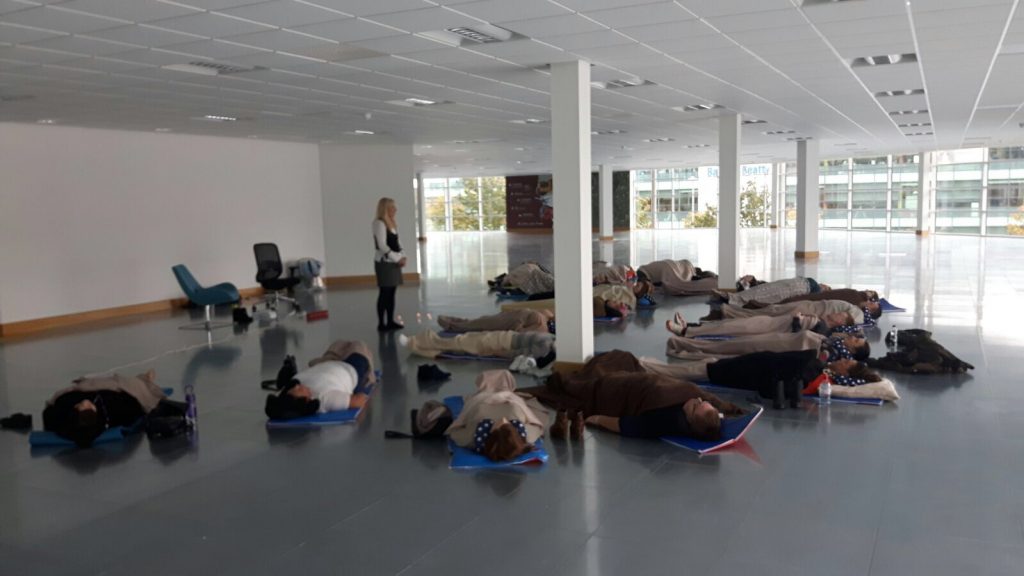 Mindfulmess "Stress release" Meditation Sessions
Here is some of the feedback we received from the management and staff at Tesco Banking, after delivering our Stress release techniques. Thank you all for taking the time to answer these question and provide us with the very positive comments, both Ella and myself were overwhelmed at how appreciative you all are.
We asked colleagues the following after their sessions and were given the below feedback:
How did you find the experience?
What was it like to take time out of a busy day at work to stop, chill and relax your body & mind?
Would you attend any further sessions? How would this be beneficial for you?
How that the temperature and facilities?
I found the experience totally relaxing – I entered the session feeling very tense, with strained muscles. On leaving the session I was feeling so relaxed and chilled –This feeling has lasted all dayI would highly recommend this and feel that if Tesco bank can accommodate any future sessions it could benefit the staff and the business, with grateful chilled agents.I would definitely attend future sessions if this was possible in order to maintain my feelings of well -being.Thanks again. Customer Services Representative
I found the session really effective. I have only ever meditated either by myself at home or when I attended counselling which was on a one on one basis, therefore a group meditation really was a new experience for me. That said I did not feel like I was in a room full of people, I found the content of the session very calming and soothing. It was lovely to have this opportunity at work, thank you for organising it. Sonia & Ella did a great job of explaining what it was all about and putting any nerves to rest. I felt a bit "lighter" in my mind upon leaving the session and would definitely attend further sessions if we have this opportunity in the future. I feel that it helps me let go of the unimportant worries that weigh me down in life. Thank again. Customer Services Representative
I found the experience fantastic and still feeling really good today!I don't usually sleep very well and slept for a straight 10 hours last night!!I enjoyed having the time out also and feel it has made me approach my job a lot better afterwards and would definitely do this again.Thanks,Customer Services Representative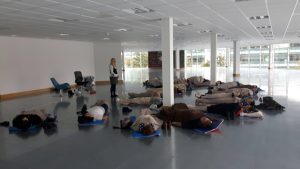 I found the Mind Your Life Training experience relaxing and calming and it was the first time I have ever tried something like this before.  During the experience I felt like it was decluttering my mind and making me focus on myself instead of everything or everyone else around me.  The session was very visual as well as you could mentally picture what was being described to you which was very chilled and relaxed.To do in the middle of a busy day at work was also beneficial to myself as it made me again take a step back and put myself at the centre of the day and not my team or family etc.  It made me feel re-energised and invigorated for the rest of the day to come instead of tense and wound up as I had had time to release the tension and pressure in this session.I would definitely attend further sessions if arranged as I felt the benefits simultaneously at work afterwards and also at home that evening with a very busy family life to arrange and prepare mentally and physically for! I was asking for help to do things in the home rather than shout that it better get done or else?It was a great session and definitely a value for money.Thanks Jamie Seconded Team Leader
I found the experience deeply relaxing and insightful in how meditation can assist in improving how productive we can be in both inside and out of work.It was great being able to remove any work stress for an hour and bringing clarity for the remainder of the day. I would attend further sessions as I found the session great for my wellbeing and would like to explore how meditation can be used to further help my mental and physical wellbeing.Team Leader
It was so relaxing, and easy going. Felt totally chilled out and had an amazing night's sleep. Ella and Sonia made you feel comfortable, and at-ease throughout. It was lovely to have a break from the real world, and relax. Make that time all about yourself and no-one else.I would definitely attend other sessions, already looking into going to more. It was lovely to just have time to yourself, and relax.Customer Services Representative
It was good. I have done meditation before so had a good expectation of what to expect and it met that expectation. It was a welcome break from a busy schedule just to take time for me and relax. I would absolutely attend any and all future sessions that were available. It benefits me as it gives me an opportunity to stop and recharge my batteries. Trainer
Ella and Sonia were lovely and they created a very relaxing atmosphere.  It wasn't what I was expecting though as previously at Q8 we did a session where we were sat in a chair using similar techniques and you really were able to learn and practice the techniques and become mindful and meditate.  With us lying on the floor with a pillow and blanket I basically slept for an hour. – It was great to have this me time. I definitely would definitely do it again if it didn't involve lying down and we were seated instead as although sleeping is very relaxing it isn't the same as meditation and learning how to quieten a busy mind. Colleague experience
I'd definitely like to come along in the future and would definitely recommend to others but I'd prefer to attend on a monthly basis as opposed to weekly. CSM
I thoroughly enjoyed the session and am more than happy to provide feedbackThe experience was very beneficial, relaxing and was fantastic to take some time of my day to stop at work for an hour to relax, unwind and chill body and mind.  I found it to work really well, better than I thought it would and was very surprised by how I felt after the deep relaxation session.I would definitely attend future sessions and feel that it would more than benefit me in terms of relieving stress, worry and anxiety and just to take time of your working day to relax and unwind, I found it to have a positive experience on the rest of my dayThe facilities and temperature were fine although it could have been a tad warmer that's all but it was fantastic that blankets were provided.Customer Services Representative
I found the experience to be amazing. All my aches and pains left my body and all my stresses left me. I have been much happier and confident since. I would recommended it to anyone. I would definitely attend further sessions.Customer Services Representative
It was amazing. It was a great experience I would do even out of working hours.This will help me in my personal and work life and would definitely do it again on a regular basis.Temperature and facilities were perfect.Customer Services Representative
I found the experience very relaxing. The timing was perfect couldn't have come at a better time. I would love to attend further sessions. This would help with stress/anxiety. The temperature was a bit chilly but OK with the blankets, you don't really need much else but plenty of space, mats, pillows etc. The facilitation was very good.Customer Services Representative
These are just a sample of the feedback we have received.
If you would like to contact us and help us to help you and your staff, we will personalise the package you receive to fit your companies needs.